1 year ago
Nando's launches meal kits, kicking date night up a notch
Hallelujah.
If you love a cheeky Nandos then you're going to be only weak for their latest offering.
Nando's want you to be able to bring their whole chicken experience to your home and thus, created four different types of meal kits that have us drooling at the mouth.
The meal kits contain cooking sauce, PERInaise sachets, rice and a topping for making your dish Nando's approved.
What's even better is all you'll have to add is chicken, flour and veg making the dishes also super easy to create for date night - the dream.
The four different meal kits to try include Cornflake Chicken, Zesty Chicken, Coconut Chicken and Saucy Chicken.
This follows on from Nando's cooking sauces which have been super popular product since they first launched in 2005.
The meal kits cater to all levels of spice from lemon and herb to very hot. These are certainly ones to try and now... all we need to do is buy a few candles and "attempt" to set the mood.
AND, what better for dessert than Magnum's new flavour.
White Chocolate & Cookies just sounds like the most indulgent and delicious ice cream there is and we want one of these babies in our hands right now.
Because what's better than white chocolate? Nothing.
The sticks have a gorgeous outer-layer of Magnum's signature cracking white chocolate (YUM), that's filled with delish cookie crumb pieces throughout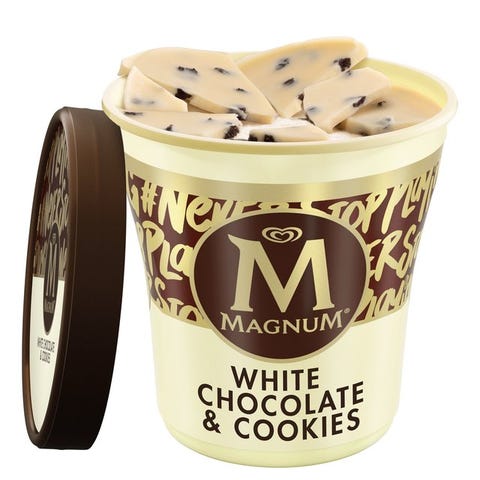 Meanwhile, if you want to go all out and get a tub, it sounds even better. It's filled with the same scrumptious pieces inside but also has a layer of cracking white chocolate on top with white chocolate shards running through the ice cream.
Can it get any better? We don't think so.