7 months ago
As much as you might hate it, eating alone is good for you
Do you hate it?
Some people would rather watch five scary movies in a row rather than eat on their own - yet a recent survey has found that a lot of people love it.
Whether you find it awkward or weird to eat alone - it really shouldn't be either and it seems millennials are crashing that stigma in half.
According to a new survey, the findings saw that 80 percent of 25-34 year olds are happy to go out to eat by themselves, and close to a quarter - 22 percent - have been out for dinner by themselves in the past week.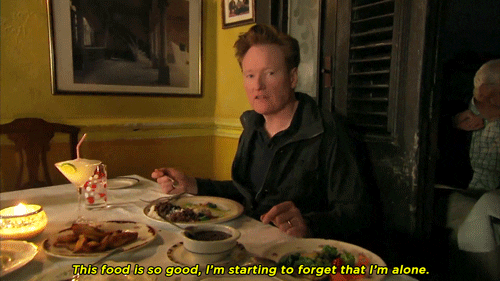 Of those surveyed, the reasons they gave for loving to eat alone are that they appreciate time by themselves, while others said that it cuts out the fuss of choosing a restaurant and they don't have to share food either.
Another study in Forbes also found that eating alone is getting more and more popular with 46 percent of Americans opted to eat out on their own.
The Forbes study noted: "Alone eating no longer connotes physical and social isolation. As consumers continue to redefine the concept of 'meal', alone eating has become a normal part of modern life.
"In certain settings (such as the workplace), alone eating has become so pervasive that many of us don't realize we're doing it — underscoring the ubiquitous behaviour that solitary eating has become."