1 year ago
Too Faced is launching a Gingerbread Spiced palette and it's absolutely gorgeous
Oooh, we love this.
We are well and truly in autumn mode right now and are only buzzing to get into our woolly jumpers, black boots and fluffy scarves.
Another thing we can't wait for are all the gorgeous autumn shades that will be entering the cosmetics world pretty soon.
Well, Too Faced are ahead of the game as it appears the brand is launching an eyeshadow palette called Gingerbread Spice.
Apparently, it was leaked on Instagram makeup account Trendmood1, and it looks absolutely gorgeous.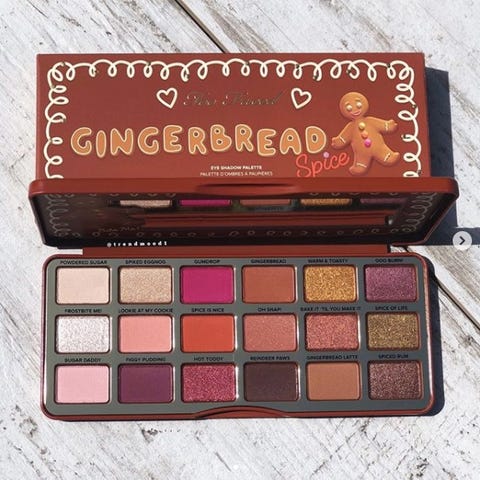 Oh, and apparently it smells of gingerbread too. Lovely.
The palette has 18 colours in it and it's compiled of pinks, oranges, soft browns and of course, loads of glitter.
It kinda reminds us of of the Urban Decay Cherry palette, but you know... we'll buy both.
The Cherry palette includes 12 divine shades of pink, taupe and brown, in matte, shimmer and glitter versions.
Never doing anything by halves, the brand also announced some other new products, including a SCENTED SETTING SPRAY.
Dead.