4 years ago
'We failed, but at least we tried...' Why the Opsh story is one every woman should read
Five years ago, sisters Jennie and Sarah McGinn were still in their 20s.
And it was around this time that the Kildare-natives decided to do something pretty incredible: they set up their own company, Opsh.
Advertisement
That they were armed with heaps of passion is undeniable – even if their experience in the areas of tech, fashion, and start-ups was rather more limited.
Backed as it was with a second-to-none PR strategy, most people in Ireland will be familiar with the brand.
In a nutshell, Opsh was an online, e-commerce site that allowed women to shop across the High Street using one account and one payment method.
It was a ground-breaking concept – albeit not one which had enough stamina to survive: Opsh recently wound-up.
"We had government support, we had investors, we employed a lot of people – we were a very public business," the women admit in a raw conversation with The Capital B, the weekly podcast presented by Nick Webb and featuring panelists Apprentice UK star, Róisín Hogan, and JOE founder, Niall McGarry.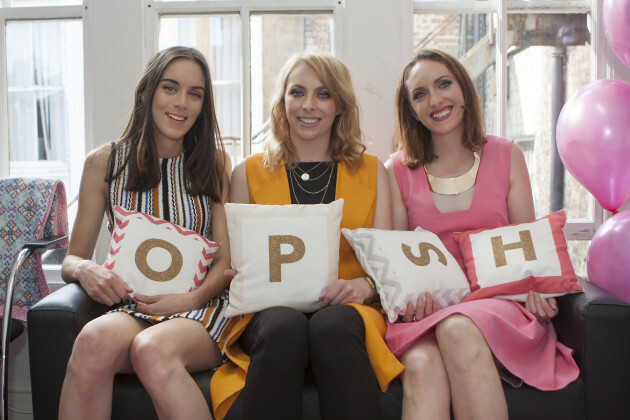 Advertisement
"We had no business backgrounds, we had no fashion backgrounds, no technology backgrounds – but the amount we learned in four years would make your head spin."
As recently as 18 months ago, Opsh was expanding into the UK. It also at one stage employed 16 people, had 30 retailers on its books, and was generating revenue of close-to €250,000.
Which is why having to step away from their company – which furthermore had their sister, Grace, on board as a co-founder and director – was a storm all the more difficult to weather.
Advertisement
"It's quite raw still," Jennie reveals. "There is a whole heap of emotions; sadness is definitely one of them and then there is a sense of loss and grief too – along with a little bit of relief probably."
By their own admission, the process of ascertaining what 'happened' to Opsh is going to take some time. Still, the women are already beginning to tentatively move on.
"You make this decision and then you can't look back and you can't regret it," Sarah says. "You can't start picking the things that you did wrong or could have done better."
Advertisement
A purely online operation, Opsh didn't do warehouse stock – something which allowed them to keep costs down considerably. "People would come to our site and be able to see all of the retailers and then shop," the McGinns explain.
"When we first came up with the idea we were a little bit ahead of our time. A lot of the retailers then didn't have the technical scoop to fit in with what we were doing."
At one stage, Jennie, Sarah, and Grace were sitting in front of Brett Palos, director of the Arcadia group and the step-son of retail billionaire Philip Green. Reports state that so impressed was he by the Irish start-up that he put more than €300,000 into it.
"Yes, the company got big enough to be able to attract quite a high profile in the UK – including with the stepson of Philip Green," they relay.
Advertisement
"We were these three girls from Ireland who didn't have long reaching networks in general, never mind in the UK fashion industry, so it was pretty amazing."
Jennie continues: "We get asked how we got in front of him all the time and we still don't have an answer except hard graft and hustling." Indeed, she adds with a smile that she and her sisters "were as shocked as anyone" when Arcadia confirmed Mr Palos wanted to meet them.
Certainly, it's a stand-out moment for a company that had numerous highlights. "In terms of having a vision for how the business was going to grow, we were hitting a lot of important milestones," Jennie and Sarah explain now.
"But we also picked a reasonably difficult business," they say. "We built a business that required a lot of investment."
That and they reflect now that Brexit hit Opsh hard.
"We had a load of investor meetings set up, and while no one actually pulled out people started to get nervous.
"And all of a sudden it was like 'OK let's pick up this conversation in three months, or in six months'.
"By that stage we were running on air."
In the aftermath of Brexit, the sisters changed their business model pretty much overnight. Still, it wasn't enough.
"While I don't regret anything," Sarah says, "if we had had a little bit more runway in 2017 I think we could have made it."
In the end, Jennie, Sarah, and Grace were working constantly. As Jennie puts it: "You get to point where you're asking 'am I even a real person anymore?'"
The McGinn family numbers six sisters – of which five were involved in the business at one time or another. Something which they say now "is a lot of pressure on one family".
"We're a very, very close family – we sound like the Waltons sometimes!" they laugh.
Jennie goes on: "The relationship of us as sisters was absolutely critical to building the business and overcoming challenges because you will support one another and you draw strength from one another.
"But what I found difficult about the winding down process – and maybe that's because I'm the eldest; there is just that awful sense of disappointment for your siblings that it hasn't worked out."
Jennie and Sarah are now both taking a timeout before diving into other ventures – not least because Jennie is expecting her first child in less than two months.
Still, it's clear that they've learned - and contributed - an awful lot throughout their Opsh journey.
"For us, three females, three sisters setting up a business in what had previously been a pretty male-dominated space, we also acted as good role models and we supported a lot of women along the way.
"And we want to continue that – maybe that means mentoring others as we move on through to our next journey.
"We've broken some barriers. We didn't get to exactly where we wanted to go, but if we can pass that knowledge on to other young people in general, that's huge.
"We've left a legacy and we're very proud of that."
Indeed, not least in a week that celebrates International Women's Day, their parting message are words every women should consider: "If you don't try – you're never going to be successful. We tried, we failed, but at least we tried."
And at Her, we couldn't agree more. #BeBoldForChange
The Capital B is available free of charge every Monday morning from 7am; listeners can tune in on Soundcloud and can also download and subscribe to the podcast on iTunes and other podcast providers.