3 years ago
Meghan Markle was in Dublin five years ago and everyone has forgotten about it
It was the day that she was officially brought into the British Royal Family.
But let's not forget that five years ago Meghan came to Dublin and said it was "beyond lovely".
Advertisement
We appreciate your sentiments, Meghan!
The newly-crowned Duchess of Sussex no longer has a Twitter account (boo!), but that doesn't mean that the screenshots don't live on.
Indeed, earlier this year, Twitter users dug out a tweet from 2013 which was posted by Ms Markle shortly after her visit to our capital city.
For example, Michael McLoughlin wrote: "Five years ago Meghan Markle was in Diceys promoting €2 drinks... gives me great hope."
During her time in Ireland, Meghan also hung-out in Krystal on Harcourt Street. She furthermore went to Trinity College to speak to the Phil Soc.
Advertisement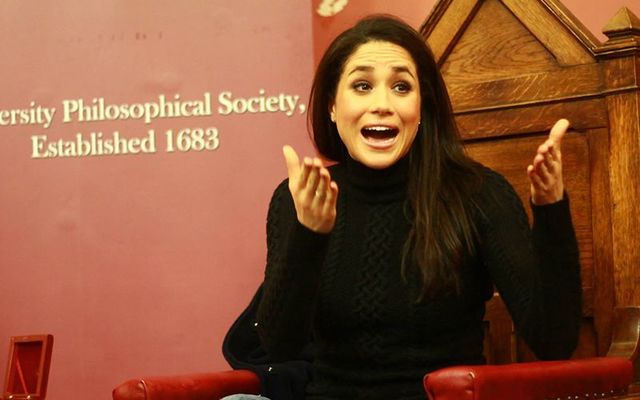 At the time, she wasn't considered important enough to receive the university society's Honorary Patron Award, so she was allocated the lesser Bram Stoker Medal instead.
James Wilson attended at the time and afterwards wrote:
"I don't remember much of the talk and tragically, unlike most of our events, we didn't film it and put it online.

"I do remember one student asking her why she hadn't responded to his tweet asking if she'd like to stay at his whilst she was in Dublin. Half the room brayed, the other half cringed."
At least it looks likely that Meghan is going to return to Dublin shortly - albeit this time as a British duchess.
Advertisement
"We know that they're going to hit the ground running," the BBC reported during its wedding coverage on Saturday afternoon.
Indeed, as soon as they're back from honeymoon "they are going to be doing quite a lot of travel," the commentator continued - explaining that a trip to Dublin was the highly likely first stop on their international itinerary.
Their final schedule will be confirmed in due-course, of course, but it appears that Meghan and Harry are super keen to visit us and want to make a point of stopping off here before anywhere else.
Advertisement
Whether Meghan will hit Diceys again remains to be seen...