2 years ago
3 easy dinners to start your health kick for the New Year
New Years resolutions, amirite?
Like many people, when it comes to the New Year, you try to make goals for yourself. Some are harder to keep than others - but one that crops up at the beginning of every year is to be more healthy.
Advertisement
If you've tried in previous years and haven't really stuck to it - set yourself up on the right path with these three easy recipes that will get you through the first few weeks.
While they're not all kidney beans and spinach (there's a burger in there for your cheat days) - they're better than a frozen pizza or takeaway.
Bacon and asparagus pesto pasta
1 lb. pasta, such as cavatappi or rigatoni
2 bunches asparagus, blanched and qaurtered
2 c. fresh basil leaves
1/2 c. extra-virgin olive oil
1/4 c. shredded Parmesan
1/4 c. almonds
1 clove garlic
1 tsp. kosher salt
6 slices bacon, preferably thick-cut
Freshly ground black pepper
Advertisement
Cook pasta in large pot of boiling, salted water until al dente.
Make pesto: Combine blanched asparagus, basil, olive oil, Parmesan, almonds, garlic and salt
Cook bacon
When pasta and bacon are cooked, put everything into one pan and stir. Season with pepper.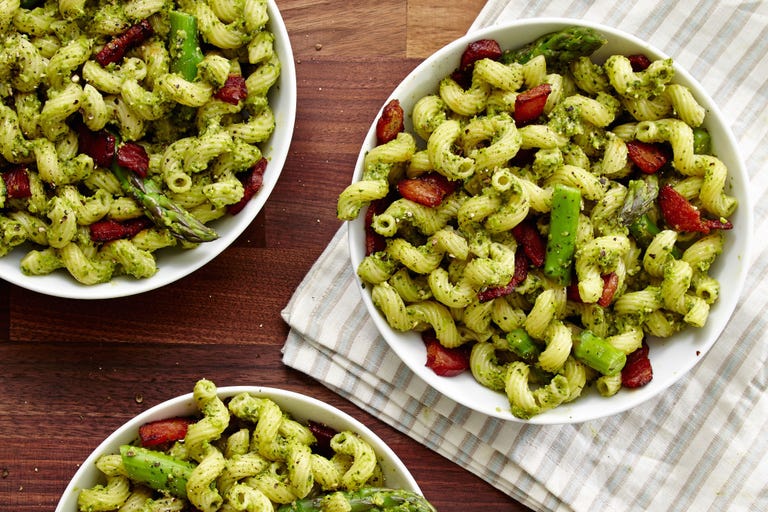 Guacamole Burger
Ingredients
4 hamburger patties
Advertisement
salt
Freshly ground black pepper
4 slices cheese
2 ripe avocados
Advertisement
1/4 c. cherry tomatoes, chopped
1 jalapeño, minced
Juice of 1 lime
4 Hamburger buns
Advertisement
Season burger patties with salt. Grill for 6 minutes each side, then one minute with cheese on top.
Mash avocados, tomatoes, jalapeños, and lime juice and season with salt.
Assemble burger and keep refrigerated to eat during the week.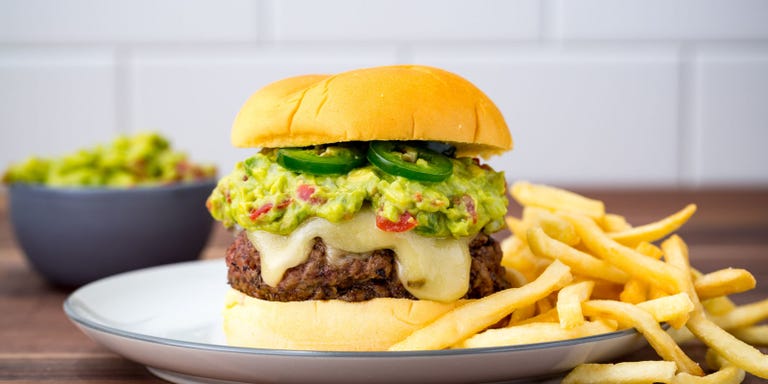 Cheesy spinach flatbread
Ingredients
2 packaged naan flatbreads or 1 cooked thin-crust pizza crust
1/2 c. pesto
6 oz. fresh mozzarella, shredded
1/3 c. baby spinach
crushed red pepper flakes
Line baking tray with parchment paper and place flatbread on top.
Cover flatbread with either tomato sauce or pesto of your choice.
Top with spinach, mozzarella or whatever veg you fancy. Add pepper flakes.
Leave in oven for 10-13 minutes.
Cut when warm and enjoy straight away or save until during the week.