2 years ago
Magnum has just launched a new flavour and it's the dream
Lads, the weather is looking GOOD.
For once, we have not been met with rain and wind and hailstones and sun all in one day. It's just kinda... sunny?
Advertisement
We don't want to jinx it, but we're hoping this weather is going to be staying around for a while and with Met Éireann predicting that the weekend is going to be the hottest all year, we're definitely looking forward to a few ice creams in the sun.
So, when we saw that Magnum has released a new flavour we got super excited.
White Chocolate & Cookies just sounds like the most indulgent and delicious ice cream there is and we want one of these babies in our hands right now.
Because what's better than white chocolate? Nothing.
The sticks have a gorgeous outer-layer of Magnum's signature cracking white chocolate (YUM), that's filled with delish cookie crumb pieces throughout.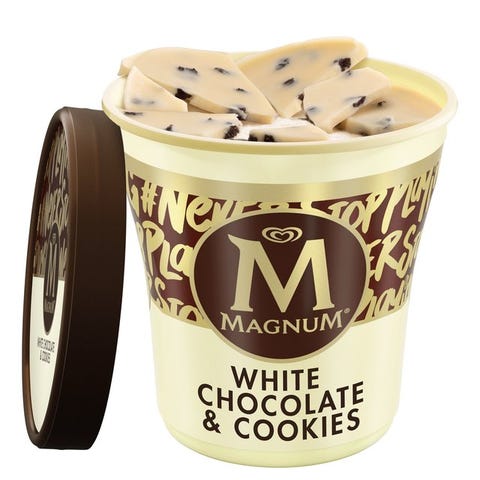 Meanwhile, if you want to go all out and get a tub, it sounds even better. It's filled with the same scrumptious pieces inside but also have a layer of cracking white chocolate on top with white chocolate shards running through the ice cream.
Advertisement
Can it get any better? We don't think so.