5 years ago
Win tickets to an exclusive preview screening of ALICE THROUGH THE LOOKING GLASS!
Hurry, time is running out! Tick, tock, tick, tock...
ALICE THROUGH THE LOOKING GLASS is the highly-anticipated sequel to the phenomenally successful 2010 Tim Burton film, Alice In Wonderland.
Advertisement
Boasting an incredibly impressive cast including Mia Wasikowska as the amazing Alice, Johnny Depp, Helena Bonham Carter, Anne Hathaway, Sacha Baron Cohen, Irish actor Andrew Scott, and featuring the dulcet tones of the wonderful Alan Rickman, ALICE THROUGH THE LOOKING GLASS magically transports its way into Irish cinemas on 27 May.
©Disney
To celebrate the release of the film, we've teamed up with the delightful folk at Disney to offer you and your family a terrific treat.
Curiouser and curiouser...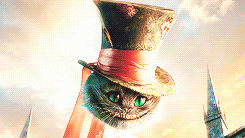 By answering the very simple question below, you'll be in with a chance of winning a brand new Push watch AND a family pass (four tickets) to see ALICE THROUGH THE LOOKING GLASS at an exclusive Dublin screening, taking place in the Savoy Cinema, O'Connell Street, Dublin, on Sunday 22 May at 1.30pm.
Advertisement
So what are you waiting for? It's a race against time...
Here's the brilliantly barmy trailer to get you in the mood...
Advertisement
Clip via Disney UK