2 years ago
Marriage expert gives her tips on what to do if you're hungover on your wedding day
It's not the best tactic... but we can see how it happens.
Whether you have a wedding abroad or at home, you'll probably end up having one last (first?) celebration the night before the big day.
Advertisement
The day is just in reach, everything is *hopefully* organised. You have all your fam and friends on board and it's just going to be a great day... so you have a little drink.
And maybe one more. And then your mum gives you another... and then your bridesmaid... and all of a sudden it's 7am on the morning of your wedding and you have a raging hangover to put up with.
Not so fab.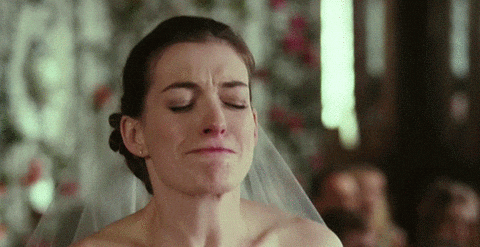 However, a matrimonial consultant and relationship expert has told the Independent what to do if you're not feeling A+ on your wedding day.
Sheela Mackintosh-Stewart simply said: "A cooked breakfast including proteins to soak up the alcohol and drinking lots of fluids with alka seltzer is the way to go.
"For the bride, a good dab of concealer and a bright lipstick will hopefully do the trick."
Advertisement
So, a hardy breakfast and a bit of makeup? Yep, we think we can handle that.