4 years ago
Yes we were all part of the mob... but Charlie Gard leaves behind no winners
A seriously ill child. Desperate parents. A vicious court battle. And a tragedy on which everyone has an opinion.
On Monday, Charlie Gard's heartbroken mum and dad decided that his medical treatment should come to an end.
Advertisement
It means that the baby boy will die - probably within days - and will not now make his milestone first birthday on August 4.
Over the last number of weeks, some of us have agreed passionately with Charlie's doctors - doctors who were adamant that Charlie was beyond help and should be allowed to die without pain or discomfort.
Others sided fiercely with his parents - who wanted to bring their son abroad for experimental treatment.
We were all part of the mob in some capacity - I know I was. I felt Connie Yates and Chris Gard were increasingly becoming detached from reality. Adoring, loving, and protective as they are of their gorgeous son, they were making choices that were not in his best interests.
"Let him go peacefully," I thought. "Stop this circus."
I have two children myself: a girl aged four and a boy only eight months older than Charlie is. The raw pain on Connie and Chris's faces is the raw pain that most of us can gratefully only imagine when we see and hug and love our own precious sons and daughters.
Advertisement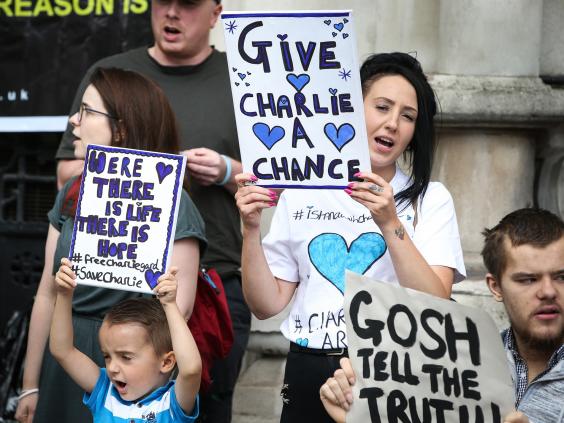 That no one could feel anything less than a deep, painful compassion for this dying little baby's mum and dad (a woman and a man who look increasingly haggard) is a given.
But nor could I, even as a mother, empathise with their judgement.
Today that changed. Seeing Connie speak outside the High Court in London was deeply distressing. "Mummy and Daddy love you so much Charlie," she told the gathered media and army of supporters.
"We always have and we always will and we are so sorry that we couldn't save you. Sweet dreams baby. Sleep tight our beautiful little boy."
Advertisement
Chris added: "This is one of the hardest things we will ever have to say and we are about to do the hardest thing we will ever have to do which is to let our beautiful little Charlie go.
"Put simply, this is about a sweet, gorgeous, innocent little boy who was born with a rare disease who had a real, genuine chance at life and a family who loved him so very dearly - and that's why we fought so hard for him."
Charlie Gard is a beautiful baby boy who has parents who want the whole world for him in a way that every parent ultimately does. But because of a devastatingly cruel rare disease - mitochondrial depletion syndrome - Charlie will not grow up. It's all so desperately unlucky in a way that is utterly incomprehensible.
Advertisement
And so today, let's remind ourselves that there are no rights or wrongs. There are no sides of the fence. Battle lines may have been drawn, but they're all irrelevant now.
In short, there are no winners. Nor are there any buts. Any parent would fight, and scrap, and strive for their baby. That's what Connie and Chris did until the very end.
In the process they moved not just their home city of London; they moved many millions further afield around the world and in doing so they have ensured that their son's name will never be forgotten.
Advertisement
RIP Charlie Gard; an extraordinary little boy.