1 year ago
Can we take a moment to look at how gorgeous this €80 River Island boiler suit is?
It's stunning.
Every once in a while a gorgeous piece comes along that we just have to have.
Yes, we get by day to day with jeans and 'nice tops' but when you have a special event on the horizon, we can't help but go all out and buy something that oozes class.
And this boiler suit is just that.
The white suit is from River Island and comes in at €80.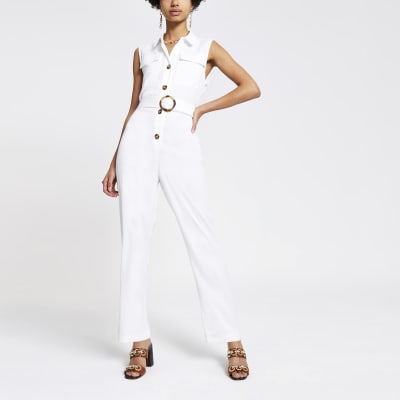 It hits all kinds of trends with its utility style, belted waist and button up fastenings. It even reminds us of Meghan Markle's Givenchy trench dress she wore today to debut her baby boy.
The woven fabric means the material is sturdy enough, but won't absolutely boil you on a hot summer's day.
We love how the River Island website styled this piece up, with a pair of brown chain block heeled mules and gorgeous gold jewellery.
If you're heading away on holiday soon or have a summer get together, we'd definitely head straight to River Island to pick this up.