3 years ago
Classy and cool: The €60 River Island dress that needs to be in your wardrobe
We absolutely adore this style - and it reminds us of two very gorgeous celeb wedding dresses.
Dressing up in winter can be difficult when all you want to do is stay warm and dry. Unfortunately, for some occasions you cannot wear your jammies and your only options are a big comfy jacket or a raincoat.
Advertisement
However, who cares what your outerwear is like when you have something gorgeous on underneath.
If you have something big coming up then you need to take a look at River Island's new drop. It's full of stunning pieces at really good price points.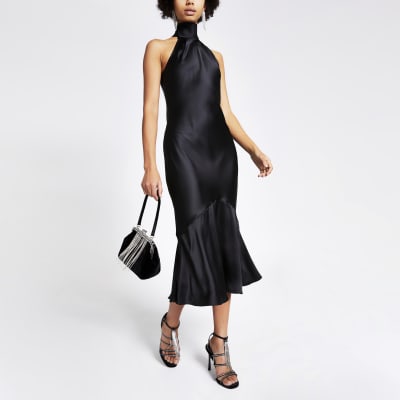 One dress particularly stood out to us as it's very similar to Meghan Markle's second wedding dress - and Hailey Bieber's - except in black.
Advertisement
The River Island dress is a halter neck satin design with a drop frill hem. It's extremely classy and elegant and would be the perfect outfit for a Christmas party - or any party, to be honest.
It's €60 and there are loads of sizes left so if we were you we'd hop on it right away. You can check it out here.