4 years ago
Everyone is going mad for these €68 M&S leopard print runners
Gimme, gimme, gimme.
Every now and again there's a particular item that everyone goes mad over. It could be a winter jacket, a summer dress, hair clips or leggings.
Advertisement
But don't you know, the minute people get wind of it, you will see it everywhere.
In town. On Instagram. In your local supermarket. The library.
The latest item that-everybody-absolutely-loves are these runners from Marks & Spencer.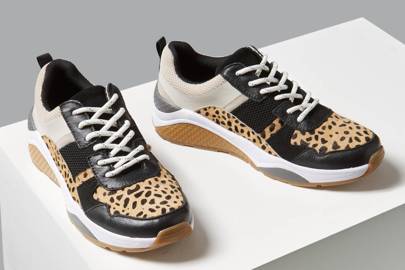 Advertisement
When they first arrived online late last year they sold out almost immediately and now they're back again... and of course, they're already nearly sold out again.
At the time of writing, the Irish M&S website only has the size 6 1/2 left, while the UK site only has a size 3 left.
So, if you're either size, we'd leg it online to buy them (you can do so here).
M&S' Style Editor told Glamour why they're so popular right now: "There are numerous reasons I'm grateful for the fact trainers are currently en vogue. Firstly: comfort. While I'm happy to brave vertiginous heels or bafflingly strappy sandals when the outfit calls for it, my feet aren't always so thrilled by the end of the day. No such problem with trainers.
Advertisement
"Secondly, I love the way a good pair of trainers takes the 'try hard' out of any outfit, while still injecting a dash of cool into the overall look. A floral maxi dress and court shoes? Bit much for weekend brunch. The same dress with trainers? Perfect. And when they look this good, it almost doesn't matter what else you wear, because everyone will be staring approvingly at your feet. Unfortunately this leopard-print pair jumped off the shelves but you can still get them in a cool black or white mix."