1 year ago
This gorge black embroidered jacket has been reduced to only €25 in River Island
This is one that will go with everything in your wardrobe.
It's also something that looks incredibly comfy but fancy and stylish, which ticks all of our boxes.
We are absolutely loving this velvet jacket from River Island. With floral embroidery on the front and a zip up front, it came in at €45 and has now been reduced to €25 which is a total bargain.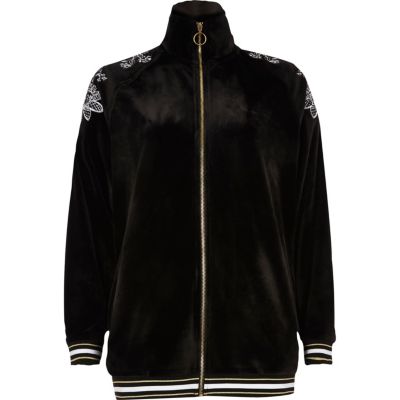 It's selling out really fast, so if we were you we'd leg it into River Island (or head to the website) to grab it.
The jacket also come with matching joggers which we think are really cute too.
Meanwhile, if you're on the search for a bargain, these River Island beauties have been reduced from €100 to €65 and they definitely fit into the investment purchase category.
You can check them out in all their glory below and if you're looking to purchase them for yourself, have a look for 'Black Faux Leather Knee-High Boots' on the website.
At the moment, the gorgeous River Island boots are available in all sizes to buy via the website but a bargain like this won't hang around for very long.