6 months ago
This gorgeous copper top has been reduced to €25 in River Island
Gimme, gimme, gimme.
It's very common to feel a bit fed up with what's in our wardrobes. While yes, we have an abundance of clothes, something might come up that makes us think 'we need something new'. Something fresh and fun.
If you're going through a wardrobe rut right now but don't want to spend loads of money sprucing it up then you have to take a look at the sale section on the River Island website.
It's full of fab pieces at reduced prices, with everything kimonos to jeans and dresses on sale.
While scrolling through the section on the website, we spotted this gorgeous top that has been reduced to €25. It originally came in at €40 so it's a good mark down - and it will be something you can wear on any given night out.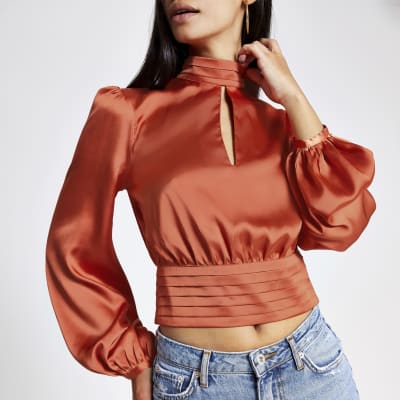 The copper puff sleeve top has a high neck and cut out back, along with a slit down the front.
Even though it's a pretty glam top, we'd love to team it with a pair of mom jeans, Converse and a leather jacket slung over the shoulders.
However, you could equally dress it up with a midi slip skirt, heels and a pair of sparkling hanging earrings.
You can check the top out here.