5 years ago
From Penneys to Asos... we can't get enough of pom pom runners
Joshua Sanders introduced its fur and leather pom poms to the catwalks last year - and pretty quickly the High Street followed.
We're very glad of that too: because while the designer version originally cost a rather steep €485 (PS matchesfashion.com now has marked them down to €289), the likes of Asos, River Island, and Primark have far more affordable alternatives.
Advertisement
Hurrah!
So if you're feeling in a pom-pom kinda place, may we introduce the following for your footwear consideration...
Advertisement
1) Grey fluffy slip-on plimsolls | River Island | €37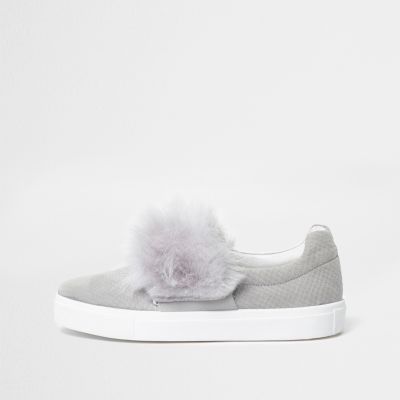 2) Pom pom trainers | Penneys | €16
Advertisement
3) Pink satin slip-on pumps | Office.co.uk | £13
Advertisement
4) Dandelion pom pom trainers | Asos | €38
5) CAPTIVE Pom Pom Trainers | Topshop.com | €20