2 years ago
This River Island dress has been reduced to €24 and it's just dreamy
We love a good bargain.
Sometimes, we get the feeling that everything we're wearing is a little old. Our jeans have worn out, our shirts have lost a few buttons, our white shoes are no longer white, and we've worn the same dress to every event we've gone to.
Advertisement
This time of year is the perfect chance to spruce up your wardrobe a bit, and now that we've spotted a sale on the River Island website, we're heading straight to it.
While scrolling along, we spotted this gorgeous black and white dress that is perfect for summer (or whenever summer decides to get here).
It would also be perfect for heading away on holidays, whether you're going to a glam girls dinner or just want to wear it on a romantic night with bae.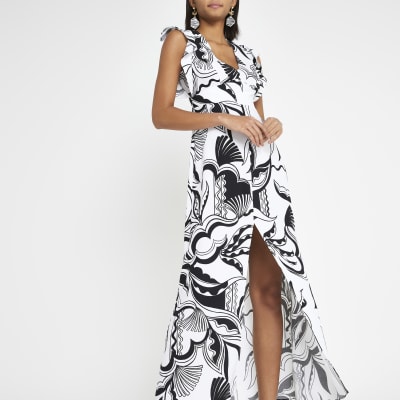 Advertisement
The dress was originally €75 but has now been reduced to €24, which we think is a total steal.
The woven fabric is great for walking in the sunshine, and with a high split and low neckline it's pretty much the perfect summertime dress. You can check it out here.
River Island currently has a LOAD of gorgeous bits on sale so whether you're planning outfits for a holiday or just want to spruce your wardrobe up a bit, definitely head on over and check it out.