1 year ago
This River Island dress has been reduced to €25 and is ideal for the office
Need some new work clothes?
Sometimes, we get the feeling that everything we're wearing is a little old. Our jeans have worn out, our shirts have lost a few buttons and our white shoes are no longer white.
This time of year is the perfect chance to spruce up your wardrobe a bit, and now that we've spotted a sale on the River Island website, we're heading straight to it.
While scrolling along, we spotted this gorgeous black dress that would be perfect for the office - especially when it gets that little bit warmer out.
The LBD is midi length and has white buttons going all the way down the front - a major trend this summer.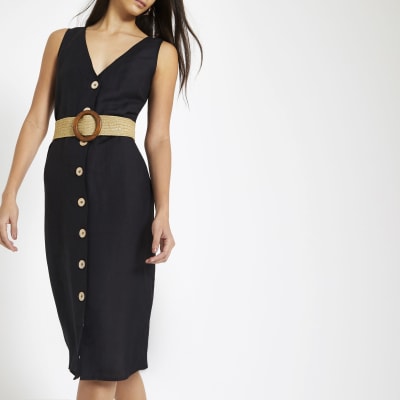 It also comes with a belt that will cinch you in around the waist, which we all know can be super flattering no matter what your body type.
The dress was originally priced at €55 but has now been reduced to €25, which we think is a great bargain.
It's so versatile you could even wear it to the office and head out straight after work for a G&T. Or equally, it would look great on holiday - dress it up with some gold jewellery and heels and you'll be ready for a fancy dinner in no time.
You can find the dress here (but we'd be quick to snap it up because sizes are selling out fast).