1 year ago
Top 9 moments from the Toy Show we're still talking about
Best. Night. Ever.
The Toy Show is all anyone has been talking about since it aired on Friday night and with a week (and two years) of bad news, it's honestly just what we needed.
Advertisement
Taking our minds off our worries, the Toy Show did just that with the Lion King themed show, from a Harry Styles cover to Ryan putting his hand into a fake ostrich's bum, it was just as wild and wacky as ever.
And while "alleged adult" Ryan Tubridy did a fantastic job, as always it was the kids who stole the show and we've got some of the highlights if you need a reminder of just how great they were.
Finn
Advertisement
Finn showed off his Lego collection and spoke about how it got him through his cancer treatment, breaking our hearts when he said that his mum would help him put the pieces together when he was very poorly.
Bravely telling Ryan and the viewers his story, Finn explained that when you've finished cancer treatment, you get to ring a bell to tell the ward you're "done with cancer."
Ryan brought out a bell for him to ring and have the world show their support, but all didn't go as smoothly as when Finn took to the bell, he was so excited and rang it so hard that he broke it, only making the situation more memorable.
Kellie Harrington
Advertisement
The new pals practising a little shadow boxing backstage 🥊#latelatetoyshow | @latelaterte | @Kelly64kg pic.twitter.com/ieHdR67Oqg

— The Late Late Show (@RTELateLateShow) November 26, 2021
Ireland's hero and national treasure was the first celebrity appearance of the night, surprising "bestos" Poppy and Darcy who couldn't handle meeting their idol.
Kellie not only played games with the pair and joked around with them, she promised to come to their school to teach a boxing lesson.
Advertisement
Giving advice to other children around Ireland, Kellie added: "Just be yourself and surround yourself with all your friends, and be very positive."
Calum and his little brother Jackson
Calum was in control of spinning the decks while his brother Jackson's job was to get the audience pumped, and he certainly did a great job doing it.
Joined on the show by other children in colourful costumes, the performance was one of the most memorable, but it only got better when the pair returned for the parade or bikes, go-karts and everything in between.
Advertisement
Of course, we all remember Calum's face as one kid belted out Ave Maria in Italian, to say he was well impressed would be an understatement.
Róisín
Isn't Róisín dino-mite? 🥰🦖#LateLateToyShow pic.twitter.com/S5gV2uFu7h

— The Late Late Show (@RTELateLateShow) November 26, 2021
Five-year-old Róisín stole hearts as she did a rapid-fire question round on types of dinosaurs as Ryan held up toys as she quickly and correctly named every single one of them.
Pushing out her dinosaur toys in a pram, she then went on to have a tea party with Ryan wearing dinosaur gloves, picking up a small cake with no bother to her.
Abigale
Me in someone's kitchen at 4am #LateLateToyShow pic.twitter.com/oEassMaJgD

— Niamh Pender (@niamhpender_) November 26, 2021
A fashionista in the making, Abigale was all things glitz and glamour, demanding Ryan take off his fur jacket, telling him: "Why did you take my style?"
Ditching the coat, Ryan asked the Galway girl what she thought of Dublin, which she, very unimpressed, said: "I cannot handle the traffic! How do people live in Dublin!"
Lil Sips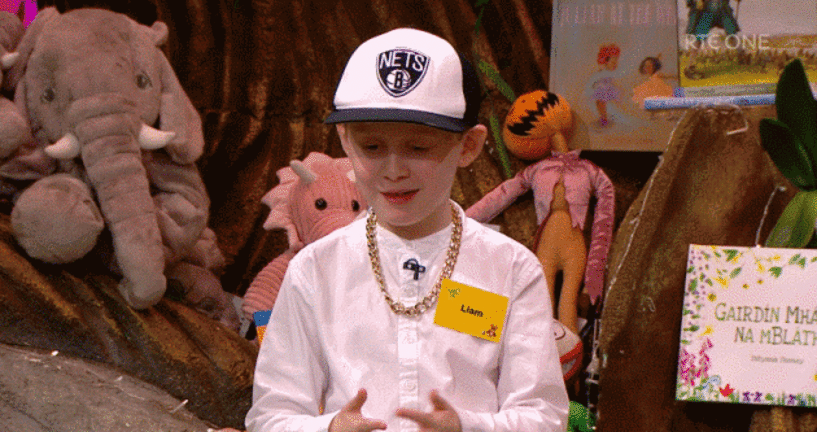 With a rapper name inspired by a cure for hiccups, saying "blunts" on air without knowing what it meant and giving us his own rendition of Eminem's Lose Yourself, what is there not to love about this chap.
Ed Sheeran
Its not everyday you get to sing with Ed Sheeran 🤩#LateLateToyShow pic.twitter.com/Aqa7NyS6dH

— The Late Late Show (@RTELateLateShow) November 27, 2021
Of course, now that we can travel again, there was guaranteed to be a big celebrity involved and who better than Ed Sheeran to perform with the Toy Show Appeal Choir.
Performing his song Leave Your life, Ed was joined by a talented group of singers and offered them each tickets to see any of his Irish tour dates with their families.
Joining Ryan later, he played games and joked around with Jamie and Coben, definitely leaving a lasting memory.
Úna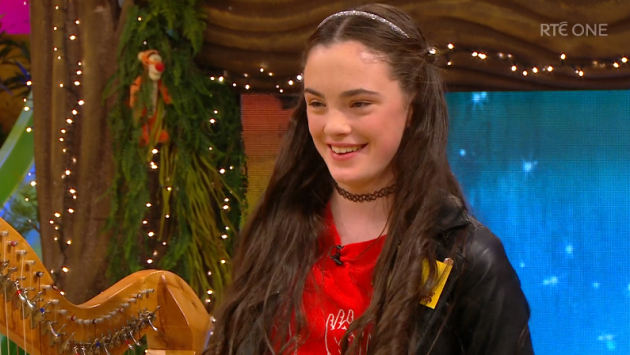 Úna blew us all away with her rendition of A Million Dreams from The Greatest Showman, done completely on the harp.
After being diagnosed as hard of hearing, she told the funny story of lying during a hearing test in senior infants as she got all the right answers by lip-reading the testers, so they didn't think there was anything wrong.
Isabella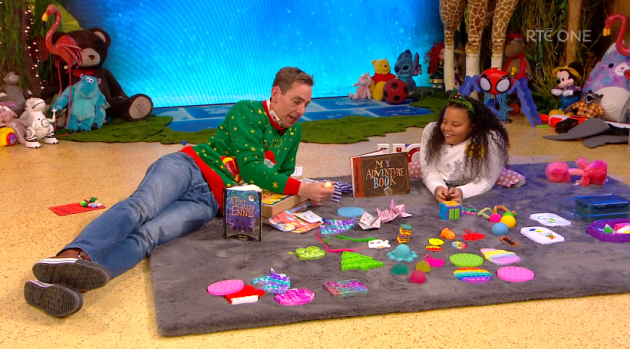 Isabella was a breath of fresh air when she appeared on, showing us all her anti-stress toys and it was just what we all need this Christmas.
Telling Ryan how much she wanted to go to Paris, it wasn't long before he told her that herself, her brother AJ, her parents and her auntie Mairéad are all headed to Paris and Disneyland thanks to Aer Lingus, and we've never seen a child so excited.