6 years ago
#HerHalloween - Fancy Dress On A Budget... Family Guy Characters
So everyone is a little strapped for cash, but that doesn't mean we can't have a good time.
Halloween is just around the corner, so we have decided to share some fantastic costume ideas with you, that won't break the bank.
You're going to love us even more after this series of costume ideas...
#HerHalloween Part II - Family Guy
Meg
Get yourself to Penny's and pick up a pink and white t-shirt (check out the pyjama section if you're finding it difficult to source).
A pair of flared jeans, which are all in vogue at the moment, a pink beanie hat and finish the look with a pair of round glasses.
To those who are visually impaired and already wear frames, this costume is almost too easy!
Quagmire
There really is no denying the genius behind this costume.
Jeans, a red shirt, some cardboard and paint. That's it!
The secret to this mask is the gauging accurately the width of your shoulders, so the cardboard can prop up perfectly.
Giggity giggity.
Lois 
This woman really went all out with the accessorising.
Stewie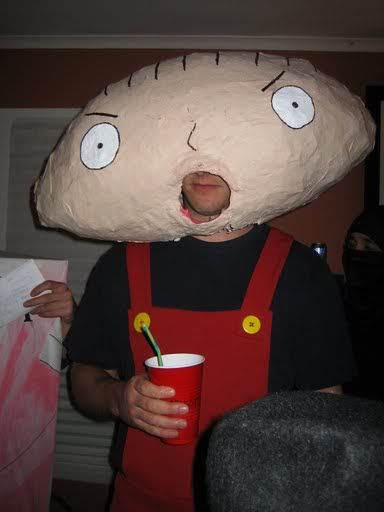 It is amazing what a bit of paper maché, and a lot of time can do.
Or just a piece of card and some flesh coloured paint!
Herbert
This outfit could be the perfect excuse to act like a pervert... "What?! I'm just in character!"
Peter
And sometimes fancy dress is just as simple as this...
(This gent happens to be the father of one of the Her.ie girls, who always knew this photo would come to good use some day).
Stay tuned for #HerHalloween Part III...
Listen, you don't have to thank us… Just make sure to send in your costume pictures instead!
Email any images or ideas to - grace.oreilly@her.ie