3 years ago
Major inspo: 5 unlikely fashion icons to inspire your summer wardrobe
From Instagram to TV – we can get fashion inspiration from just about anywhere.
But style icons are not always the ones you'd think of first.
Advertisement
While we often give praise to the likes of Gigi Hadid and Rihanna, what about those who are ever-so-sneakily inspiring the trends.
Here are five people who have inspired this summer's biggest trends.
80s inspo
From Moschino to Isabel Marant, the 80s are making a major comeback on the runway, with shiny fabrics, bold prints and strong shapes making their way onto the high street. And we think it's all thanks to a young Rachel Green.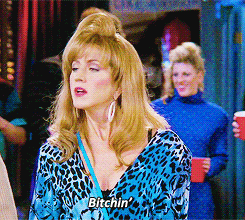 Flower power
We know florals for spring/summer isn't necessarily groundbreaking (we hear you, Miranda Priestly) but this year the annual trend is getting an upgrade. This year floral is going hard with bigger, bolder and brighter prints, and we can't help but get major inspo from the greatest nanny ever – Mrs Doubtfire.
Advertisement
Enormous earrings
While it may be all about giant hoops and chunky chokers on Instagram, the catwalks are saying statement earrings are what we should be adding to our wardrobes this summer. And if there is one woman who knew how to rock a statement earring, it was Pat Butcher.
Bold and bright
Advertisement
Gone are the pastel hues of years gone by, and instead it's all about super bright colours head-to-toe for the summer months. If the thought of wearing one shade all over makes you nervous, just look for style inspiration from the undisputed queen of this style – the Queen.
Slogan tees
If you don't have a slogan t-shirt in your wardrobe right now, do you even fashion? Yes, the slogan tee is dominating the high street right now and we have to give credit where credit is due. Tom, take a bow.
Advertisement