6 years ago
Britney Spears Just Loves to Work B*tch! Singer Announces New Album
Sometimes we run. Sometimes we hide. Sometimes we get really excited about the announcement of a new album.
That's right, the one and only Britney Spears has confirmed that fans can get ready for some new music. (Oh baby baby!)
Advertisement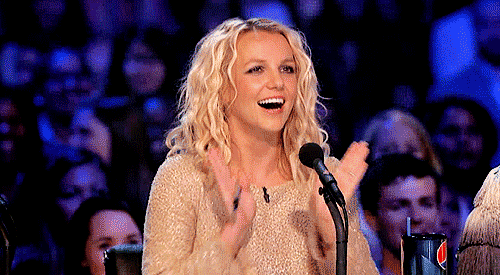 Via gifrific.com
The singer took to Twitter on Tuesday to reveal that she is working on another record. (How lucky are we?)
Alongside a photograph of her and two friends, she wrote: "Working hard and hardly working…new album…wheeeee!"
Working hard and hardly working...new album...wheeeee! pic.twitter.com/qrMg3FnB22

— Britney Spears (@britneyspears) November 3, 2015
Advertisement
She has previously sung about her love of rock 'n' roll but as yet, there are no further details regarding a release date or possible collaborations.
However, as she was born to make you happy, we're sure it won't be a disappointment. (We promise that's our last pun.)

Via YouTube/BritneySpearsVEVO
Advertisement
It's all go for the pop star who announced in September that she is extending her Vegas residency for another two years.
She really is a slave to her music. (Oops!... we did it again.)