2 years ago
ICYMI: Why wasn't Rihanna at the Met Gala last night?
Rihanna is always a queen.
Whether she's wearing a tracksuit, lingerie or an embellished gown that's the length of a flight of stairs, she is always and forever a queen.
Advertisement
A lot of people were looking forward to seeing her at the Met Gala last night. She kills it year after year and always brings some added sort of extravaganza (yes I just used that word) to the red carpet - or in this year's case - pink carpet.
She was sadly missed last night, and of course the world tweeted about it:
The fact that Rihanna didn't even go to the Met Gala has really really killed my spirits ? like....

— K.Rishelle (@Kelsss5031) May 7, 2019
Nobody does Met gala like Rihanna but she sat out this year ☹️

— VAL ? (@VRAAW1) May 7, 2019
I love how people are vocal about rihanna missing MET gala. I love it. only the biggest fashion icon of the century

— we found love (@rihannalately) May 7, 2019
Advertisement
Rihanna didnt attend the Met Gala so its cancelled. It didnt happen.

— Al Attar (@HayaAlAttar) May 7, 2019
May we all have a day of grief for @rihanna not going to the met gala

— seuss (@susmithachinni) May 7, 2019
Advertisement
But why was she not there?
It seems like Riri is keeping it low key at the moment and hasn't actually attended any red carpets this year. She was last seen in Barbados on April 28 so nobody knows if she was even in New York last night.
She also posted an Instagram Story about staying humble around the time that the gala started, so could that be a hint as to why she didn't show her face?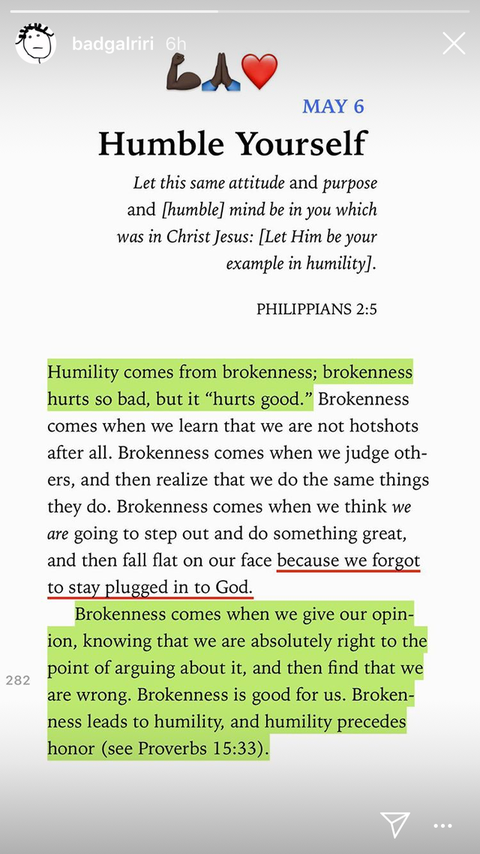 Advertisement
Was she even invited?
Well, it's Rihanna so of course she was.
It looks like she's been keeping busy promoting Fenty at the moment, but this can't be the last of Rihanna's red carpet looks.
We need her in our lives (also, we need new Ri music in our lives too).
Advertisement