3 years ago
Justin Bieber replies to fan saying 'I absolutely love Selena'
Well, this is cute.
For a long time we've had the Jelena fans believing that Justin Bieber and Selena Gomez will always end up together.
Advertisement
Of course, he is now married to Hailey Baldwin - however, he has said that he will always have a place in his heart for Selena.
While responding to a fan, he said that he "loved and loves" Selena, but he adores his wife.
The singer took a screenshot of the exchange on Instagram and shared it on his stories, saying: "Stop sending Hailey and I these messages, if you love me screenshot this and repost everywhere."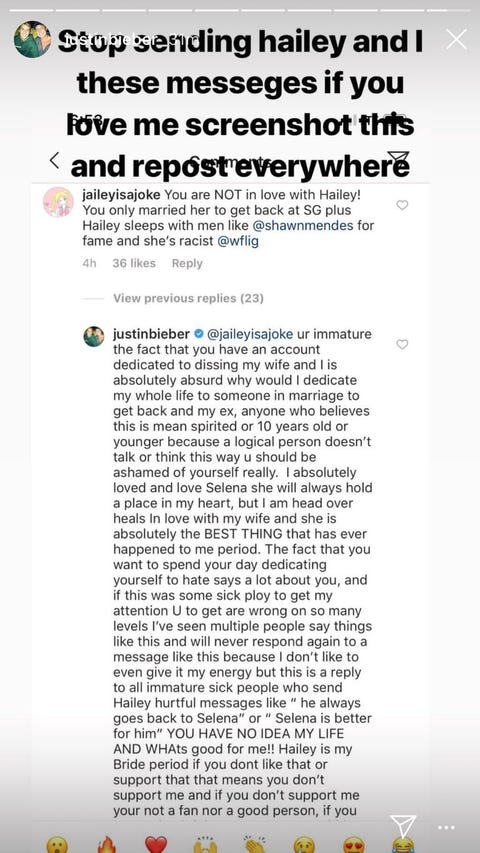 Advertisement
The comment that the hater (and we mean hater) wrote said: "You are NOT in love with Hailey! You only married her to get back at SG plus Hailey sleeps with men like like @shawnmendes for fame and she's racist."
Obviously, this is incredibly mean, rude and totally uncalled for.
Justin left a rather long reply, saying: "Ur immature the fact that you have an account dedicated to dissing my wife and I is absolutely absurd why would I dedicate my whole life to someone in marriage to get back and my ex, anyone who believes this is mean spirited."
He continued: "I absolutely loved and love Selena she will always hold a place in my heart, but I am head over heals in love with my wife and she is absolutely the BEST THING that has happened to me period.
Advertisement
 

View this post on Instagram

 
"I don't like to even give it my energy but this is a reply to all the immature sick people who send Hailey hurtful messages like 'he always goes back to Selena' or 'Selena is better for him' YOU HAVE NO IDEA MY LIFE AND WHAts good for me!!"
"Hailey is my Bride period if you don't like that or support that that means you don't support me and if you don't support me your not a fan nor a good person, if you were raised right your parents would have said if you don't have something nice to say don't say anything."
Advertisement