3 years ago
Meghan Markle's sister has been suspended from Twitter
This is suspicious.
Samantha Markle isn't exactly a ray of sunshine on social media. She's constantly commenting on her half-sister, Meghan Markle, and what she does with her life.
Advertisement
From writing books, to doing numerous interviews, it seems like Samantha tries to profit in some way from every part of Meghan's life. She even made a very lengthy statement when Baby Archie was born.
She did most of her ranting and raving on Twitter, however now it looks like her account has been suspended.
As noted by Cosmo, this is what you see on your screen when going on to Samantha's account: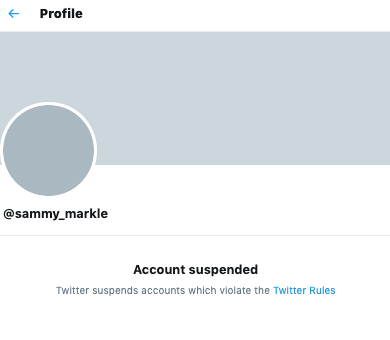 Advertisement
It's not yet known why her account has been suspended, however it's clear that she uses Twitter more for trolling and less for spreading kindness.
Not to be outdone by the social network, it appears that she has created two new accounts for herself; @SammyMarkle1 and another one called @MarkleSammyM, both of which are private.
After Meghan's son was born, she wrote: "In terms of the gene pool, we've all made a contribution to this wonderful little boy...I want him to know he's got a big family and he's part of an amazing historical time and we're excited for him.
"We're excited for Meg and Harry—I am really excited for her. I love her, she's my baby sister and it doesn't matter what we've all said back and forth but she's got to do the right thing."
Advertisement