5 years ago
Armed French police force Muslim woman to remove her swimwear on Nice beach
Liberté, égalité, fraternité...?
It is a nation's motto and a fine one at that. The idea that the values of freedom, equality and brotherhood are at the core of a country's identity. And yet many around the world strongly feel that France is betraying its precious tenets by curbing liberty, and making someone feel very unequal indeed.
Advertisement
On Wednesday, photos emerged of armed French policemen surrounding a woman on a Nice beach and forcibly making her remove her swimwear. She wasn't harming anyone and she wasn't disturbing the peace. Her crime was lying on the sand with too much of her body covered up, according to the state.
That's because authorities in several French towns including Nice have banned the 'burkini', a type of woman's swimwear which covers the body and head, as they perceive it to be an outward symbol of someone observing their faith. Presumably in the same way that a nun would wear a habit.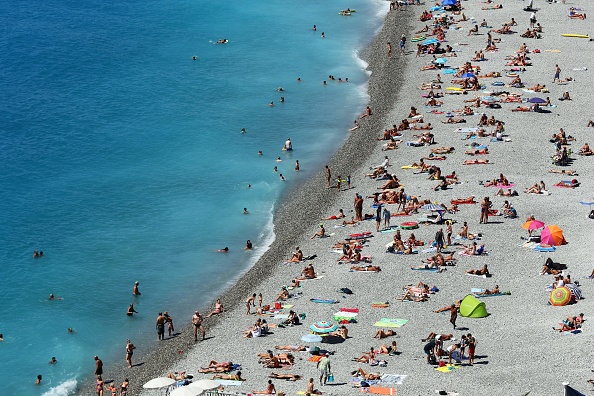 Nice's deputy mayor argues that "hiding the face or wearing a full-body costume to go to the beach is not in keeping with our ideal of social relations." The burkini does not hide the face. It covers about as much of the body as a person wearing jeans and hoodie.
Advertisement
Nice was of course subject to last month's horrific Bastille Day terror attack, in which a truck was used to murder 86 innocent people. It was seen as an attack on the western way of life and yet people came together from all around the world to show solidarity and support for France and its people.
If the wicked perpetrators sought to chip away at the freedom of a country that prides itself on its liberty, if they were hell-bent on driving a wedge between Muslims and non-Muslims, then the seaside scenes on Wednesday will come a welcome boon. Whatever the reasons, many found it humiliating.
The woman in question is a 34-year-old mother of two. Her first name is Siam. As a witness to the scene, Mathilde Cousin, explained: "The saddest thing was that people were shouting 'go home', some were applauding the police...her daughter was crying."
Here are just a few of the responses to the unedifying scenes. The general sense is that it is not France's finest hour.
Advertisement
J'ai tellement honte. pic.twitter.com/yGUwflYf8y

— Caroline De Haas ✌️ (@carolinedehaas) August 23, 2016
Totally ridiculous. What a scandalous shit-show you've set off, France. pic.twitter.com/RegyrVoU4Z

— Borzou Daragahi 🖊🗒 (@borzou) August 23, 2016
Advertisement
France has turned the laudable ideal of secularism into an institutionalised programme of intolerance. https://t.co/pdUrynATUw

— Stig Abell (@StigAbell) August 24, 2016
You should be weeping, France. pic.twitter.com/Vn54GE4xlr

— Hend Amry (@LibyaLiberty) August 23, 2016
Ah nothing says freedom like forcibly removing a woman's burkini. Well done France! U have preserved secularism. Phew it was a close call!

— Wajahat Ali (@WajahatAli) August 24, 2016
Advertisement