1 year ago
Holly Willouhgby just spoke about the 'terrifying' I'm A Celeb scene that didn't air
We're kinda bummed this didn't make it to air, tbh.
We have to say that we quite enjoyed Holly Willoughby on this year's I'm A Celebrity... Get Me Out Of Here.
While you can't beat the combo of Ant and Dec, Holly was gas as she sympathised with the camp mates and awkwardly responded to Dec's jokes.
However, there was one part of the show that was left out... and Holly recounted the scene on This Morning.
She said: "I mean, it's been horrific.
"There was a bit – you know the coliseum and you had Fleur and Sair, and they had the green ants? So this bit didn't make it to air, because I actually ran out.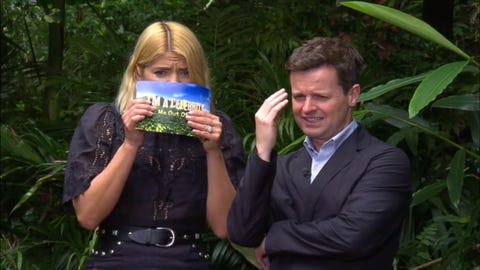 "I was stood there, and one green ant bit me. And I burst into tears and I ran out of the coliseum. I was so embarrassed that I was crying.
"I was sort of laughing but sort of crying, and there were the red curtains and I opened the curtains and I went, 'Help me!'
"And then I ran out and was so embarrassed, and it was at that moment that I was like, 'Right, you've got to pull yourself together now, because you can't be running out. You have to stay there and see it through to the end'."
To be honest, we know that celebs went through worse, but we wouldn't have liked green ants biting us either.